The Angelic Glow Candle Story
We like to think of our wares as full sensory experiences!
Welcome to Angelic Glow, your gateway to a world of serenity, balance, and spiritual well-being. At Angelic Glow, we are dedicated to harnessing the power of natural elements to create healing candles that illuminate the path to inner peace and harmony.


Founded with a vision to infuse the healing properties of crystals and the soothing essence of carefully selected natural ingredients, Angelic Glow has evolved into a beacon of light for those seeking a holistic approach to wellness. We believe that the gentle flicker of a candle, coupled with the energy of healing crystals, has the profound ability to restore balance and nurture the mind, body, and spirit.
Our mission at Angelic Glow is to spread the essence of tranquility and promote the art of self-care through our meticulously crafted healing candles. We are committed to providing products that not only beautify your space but also serve as powerful tools for meditation, relaxation, and spiritual awakening. Each candle is infused with intention and love, carefully designed to create a sacred sanctuary within your surroundings.
From our signature Crystal Healing Candles, which harness the unique energy of crystals to promote spiritual healing, to our exquisite line of Aromatherapy Candles, which blend delicate fragrances to evoke a sense of peace and calm, our offerings are meticulously curated to cater to the diverse needs of our cherished customers.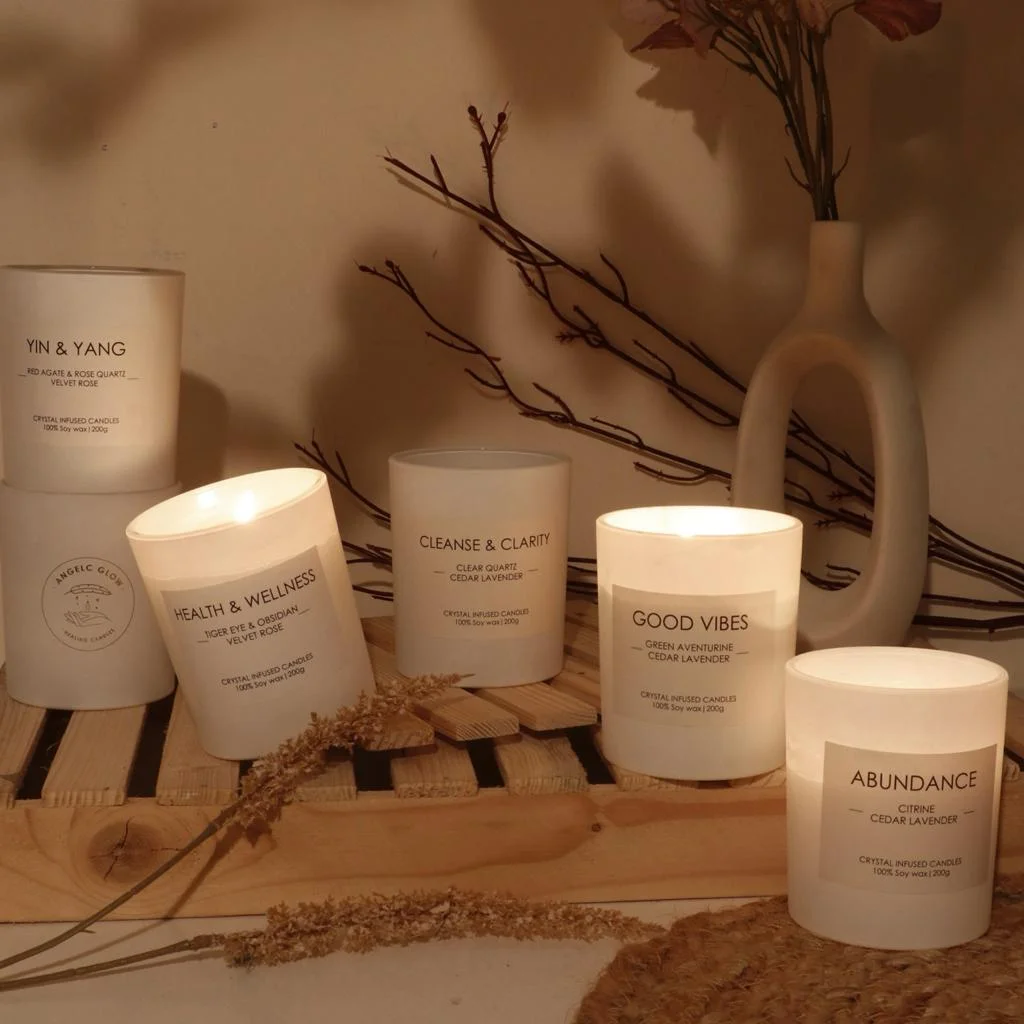 We use 100% soy wax derived.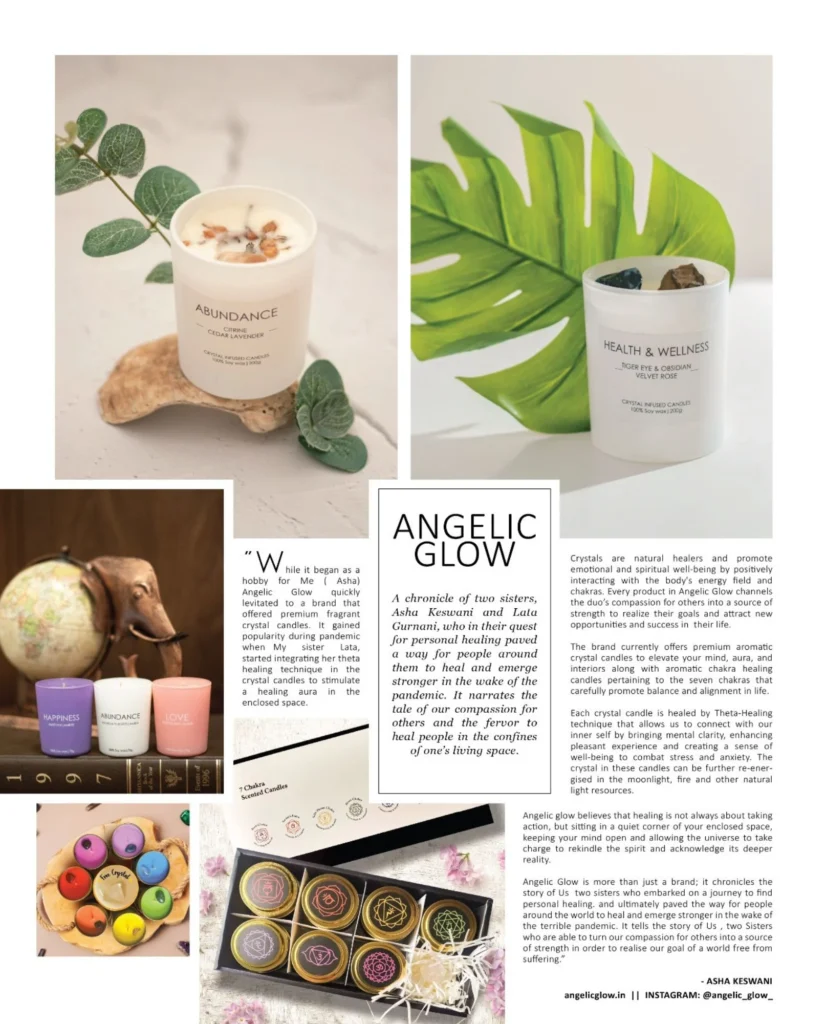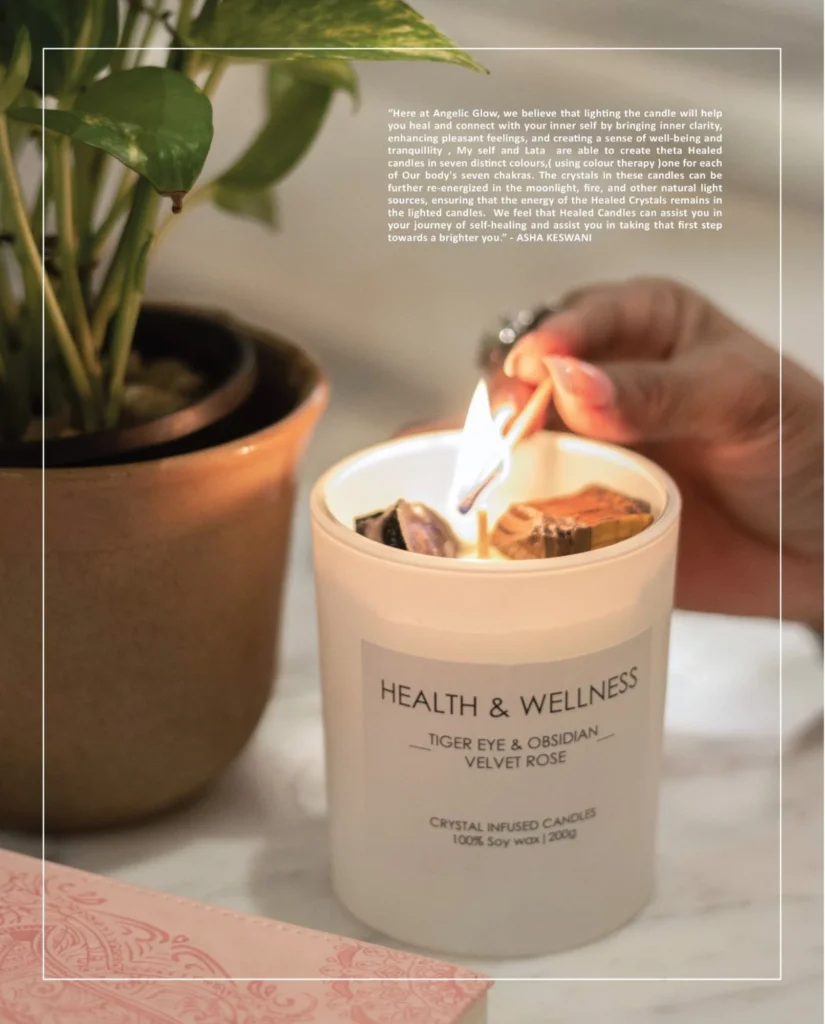 " The scent is refreshing and sweet, but not too overwhelming, and it reminds me of strolling on the beaches of Hawaii, i.e. heaven. I also love the cute, millennial-pink color..."
If you like a cinnamon scent with a hint of apple thrown in, then you'll love this candle. I light this candle and leave it lit all day. It last a long time. Seller provided fast shipping.
I love this candle so much! I always buy one at the start of the holiday season. The scent reminds me of when I was a little girl in Oregon on Christmas Day.
"I absolutely love Angelic Glow candles! My family and I have experienced tremendous benefits from using them. Notably, my daughter achieved impressive grades, and she even got the opportunity to participate in an exchange program at her school. I attribute these positive changes to Angelic Glow's energized candles, which are simply superb. Thank you, Angelic Glow, for bringing such positive energy into our lives!"
A Divine Aura in Every Flame
Angelic Candles has truly captured the essence of serenity and grace in their heavenly creations. From the moment I ignited their candles, a divine aura filled my home, creating an atmosphere of calmness and tranquility. The exquisite craftsmanship, coupled with their captivating fragrances, make Angelic Candles a true masterpiece. Each candle burns flawlessly, releasing a gentle, enchanting aroma that lingers delicately in the air. It's an absolute delight to indulge in the ethereal ambiance that these candles effortlessly create.
Pure Elegance in a Candle
Angelic Candles has redefined luxury with their heavenly creations. The moment I unwrapped their candles, I was mesmerized by their sheer elegance. The angelic motifs adorning each candle add a touch of sophistication to my decor, making them a beautiful centerpiece in any room. Once lit, the candles create a serene and inviting atmosphere, transporting me to a realm of pure bliss. The quality of the fragrances is unparalleled, and the long-lasting burn ensures that every moment spent with Angelic Candles is nothing short of divine.
A Gateway to Tranquility
Angelic Candles is a true gateway to tranquility and inner peace. Their carefully curated fragrance selection has a magical ability to transport me to a place of calmness and serenity. Whether I'm seeking relaxation, inspiration, or simply a moment of solace, these candles deliver every time. The delicate flickering flame, combined with the soothing aromas, creates an ambiance that instantly melts away stress and leaves me feeling refreshed. Angelic Candles has become an essential part of my self-care routine, and I couldn't recommend them enough.
A Heavenly Scented Escape
Escape the ordinary with Angelic Candles and embark on a scented journey to paradise. These candles are a true testament to luxury and craftsmanship. The carefully selected fragrances are nothing short of divine, enveloping my space with a captivating aroma that instantly uplifts my mood. The candles burn evenly and the mesmerizing glow casts a warm, inviting light that creates an ambiance of utter relaxation. Angelic Candles has become an integral part of my quest for tranquility, and I am forever grateful for their heavenly creations.
Illuminating Serenity
Angelic Candles has a magical ability to illuminate both my surroundings and my soul. From the moment I light their candles, a serene ambiance envelops me, bringing a sense of peace and tranquility. The fragrances are delicate and captivating, offering a momentary escape from the hustle and bustle of everyday life. The elegant design and attention to detail make these candles a stunning addition to any space. With Angelic Candles, I've discovered a heavenly oasis that invites me to embrace stillness and find solace in the gentle flicker of their flames.